Byron Shire Action Group releases Transport and Connectivity plan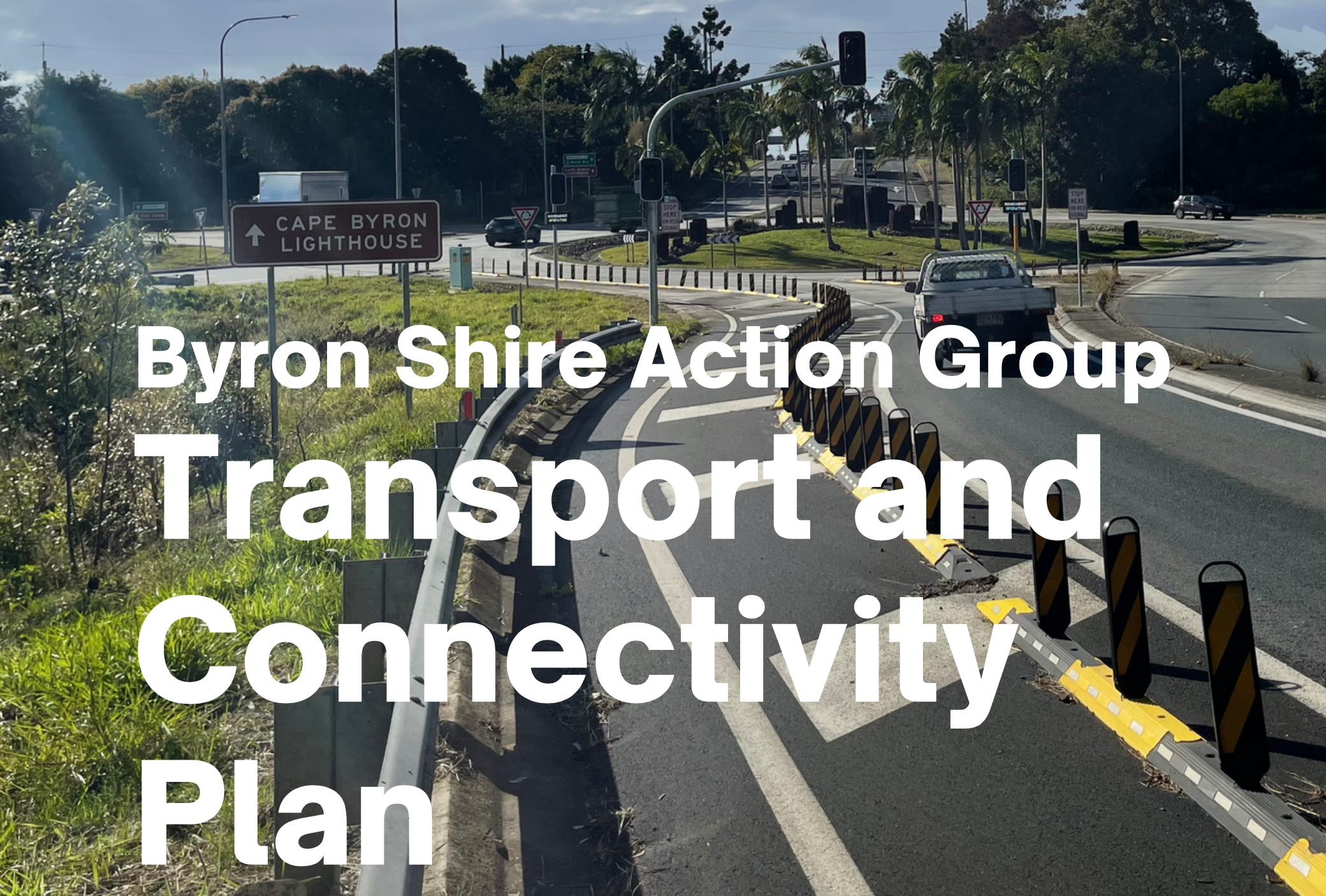 Byron Shire Action Group today released its Transport and Connectivity Plan calling for more equitable and sustainable transport and connectivity in the Byron Shire.
Media release November 19, 2021
Read the full Transport and Connectivity Policy plan (PDF).
Byron Shire Action Group has today released its wide-ranging Byron Shire transport and connectivity proposals which includes plans for the rail corridor, new bike and pedestrian tracks and for a network of mini-buses.
Bruce Clarke, who is running for Byron Shire Mayor in the December 4 elections, said that the mark of a modern community is a transport network that works for everyone.
"There are no simple solutions to our current transport and connectivity issues, but that is not an excuse for inaction. This is a plan designed to benefit our residents, our businesses, and protect our natural environment" said Bruce Clarke.
The plan includes:
Developing a strategic transport plan to win our fair share of funding from the NSW Government.
A system of public transit mini-buses, fitted with surfboard and bicycle racks
Using the rail corridor for bikes and pedestrians and for public transport shuttles where appropriate
Exploring the use of GPS restricted or docked e-bikes and e-scooters
An extensive network of electric vehicle charging stations across the Shire *
Building more accessible walking, rolling and cycling tracks
"It is next to impossible to get around the Shire without a car, this is simply not good enough" said Bruce Clarke.
"At least as a start we need a well-thought out comprehensive plan to start doing something about the transport and connectivity problems we face."
"In a Shire that prides itself on our green credentials, it's a disgrace that the current and past Councils have not put the time and effort into fixing this problem."
Read the full Transport and Connectivity Policy plan (PDF).
About Byron Shire Action Group
As a team of highly experienced, like-minded Progressive Independents, Byron Shire Action Group believes in putting the people of Byron Shire ahead of allegiance to any political party. By providing smart leadership and better governance, the team will focus on action plans to solve the many real issues faced by the community. Under the leadership of Mayoral candidate Bruce Clarke, the focus will be to ensure Byron Shire maintains its heritage, character and values while adapting to future demands. Bruce is a lawyer, local government specialist, trained mediator, and environmental and social activist with high-level management and government liaison expertise. He is joined on the team by senior diplomat, journalist, and communications specialist Julie Meldrum; café owner and Brunswick Chamber of Commerce committee member Gary Deller; and small businesswoman Janine Khosid. In the lead up to the Council election on December 4, 2021, specifics about key action plans will continue to be released that will act as a blueprint for a reinvigorated and reunited Byron Shire. www.byronshireactiongroup.org
Media Contact:
Michael Salmon 0417 495 018