Have we lost the magic?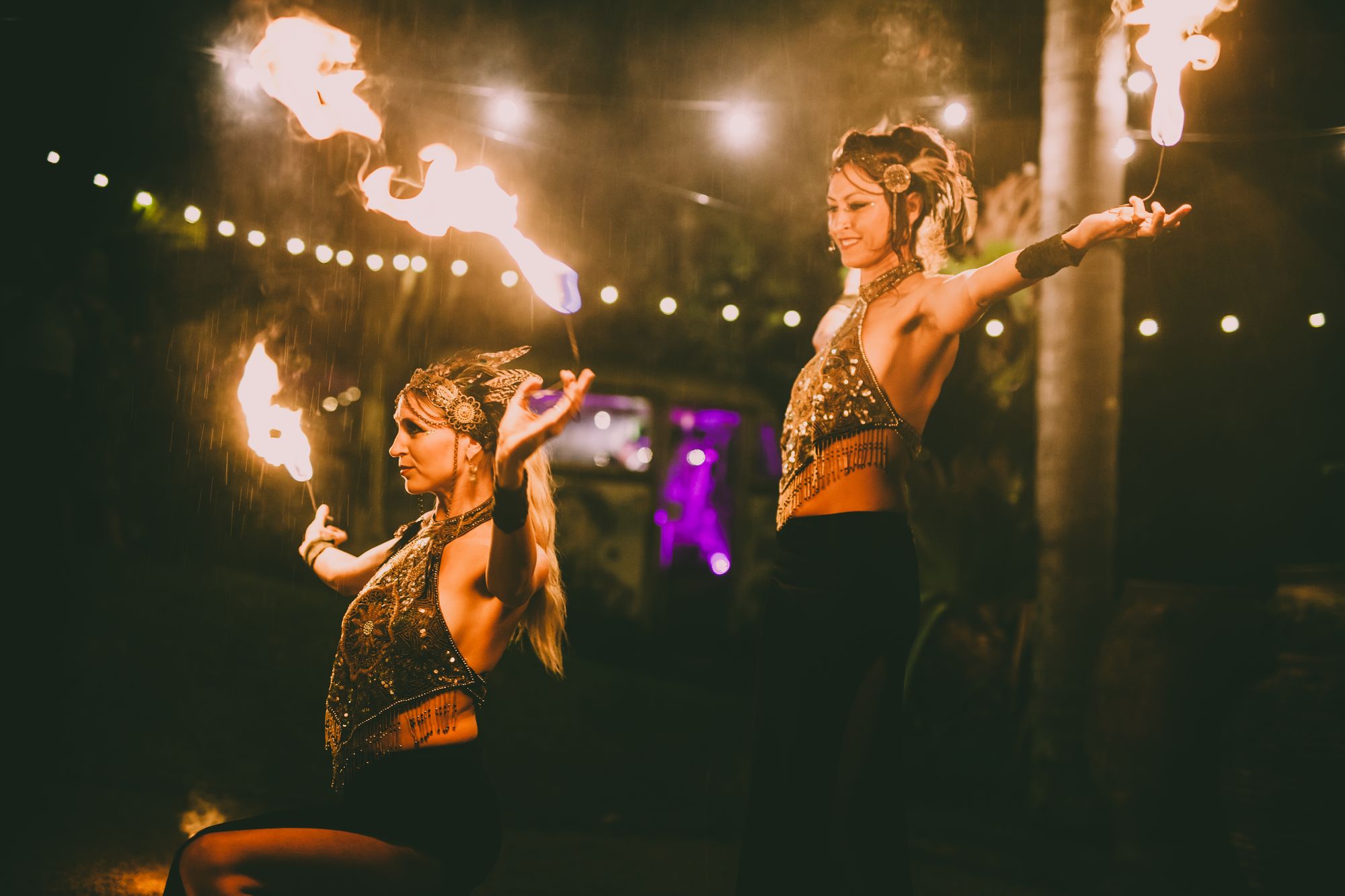 The days of the fire twirler and the drumming circles at sunset on the beach have vanished. We didn't even realise they'd gone. What would it take to bring them back?
Opinion piece by Renee Simone
Almost 2 decades ago I was in need of nurturing my creative soul so I packed my bags for Byron Bay and headed straight to Bluesfest.
Like many people at that time, we hitchhiked all the way to Bluesfest at Red Devil Park. I remember it like it was yesterday. That feeling of experiencing world class music in my new little hometown was unlike anything I'd experienced before. To see headlining acts like Michael Franti, Cat Empire and John Butler would have been enough but this five-day festival went to the next level with dozens of acts including Burning Spear and James Brown on the bill. It blew my mind that such a small, warm and friendly little town like Byron Bay was hosting some of the best music in the world year after year.
As I settled into my new life, I was constantly involved in colourful community arts projects in the streets and parks. It was a monthly occurrence to perform at events in support of Save the Whales, Support the Youth, Feed the Homeless, Harmony Day - the list goes on. At one such peace gathering of around 1,000 people, a giant peace flag was parachuted down from the sky while people put out the intention of 'building the culture of peace in Byron Bay'. It was a melting pot of arts and culture.
Actors, writers, environmentalists, artists and musicians, all congregating in Cavanbah; the Arakwal people's name for the Byron Township which means 'meeting place'. All had been drawn to this mecca of peace, relaxation, freedom, and creativity. Drumming circles on the beach, jamming sessions in the back of the van overlooking the ocean. People gathering at the water's edge, hula hooping, fire twirling, playing flutes, trumpets, and guitars.
I was part of a ukulele trio 'Blackbirds'. We performed pop-up shows in the streets with beautiful seating, plush rugs, and vintage lamps. Holiday makers and locals kicked off their shoes and danced in the streets with freedom and acceptance. People in the crowd came together and acknowledged each other and shared energetically in the combined experience. It was inclusive and fun. It was magnetising and electric - A Byron Bay Experience.
For me they were some of the golden days for creatives living in Byron Bay when everything still seemed possible. For many artists it was becoming an increasing struggle as the cost of living continued to rise. In order to stay in Byron Bay, you had to be creative enough to think of a way to afford to live, it was typical to have several passions running at once. Mine was youth work at Byron Youth Service. Many of us lived in campervans, caravans and broken-down buses on people's properties. A friend offering a single windowless garage draped with sarongs for a couple of months was seen as a score. But the population became more and more transient.
I could sense that I had caught the end of the magical era. The people who organised the peaceful rallies in the parks with food and music, the creative experiences, the organisers of events that bring the community together, began to move away. They could no longer afford to live here.
Family homes became holiday rentals. The ramshackle old houses that provided a space for groups of artists all got torn down and replaced with million-dollar villas.
Wages did not go up in line with the Byron prices. The people who played the music in the cafes had to travel too far to justify the pittance of wages that had not increased in decades.
The demographic began to shift more and more rapidly. The old campervans were replaced by Range Rovers and kooky rainbow artworks have been literally whitewashed. Development happened and we started to lose something. Not just our artists, but our sense of community.
Don't get me wrong, I love visitors, I was one once! Visitors bring a wonderful holiday energy to the town and many businesses rely on the tourist dollar to survive. But when a house is not a 'home' with a local family in it, you start to dismantle the backbone of the community.
Arts and culture bring the community together and without community Byron Bay loses its essence. That very thing that people look for when they're escaping the city to experience a Byron getaway.
It takes a lot of resources to have a thriving arts and cultural community and that's something that I feel has been taken for granted. The reality is that arts and culture are not intrinsic to Byron Bay. It was the people who brought it here and when many of those people are no longer able to live in the Byron Shire then we start to see this devolution of our creative scene. Without the creative scene holding the Byron community together we see a devolution in turn of our local residential community.
The other harsh reality is that COVID-19 restrictions have stifled community spirit and decimated what was left of our arts industry leaving creatives in further hardship. The stop-start opening and closing of hospitality businesses with rules changing weekly, sit down, no dancing, no singing, don't be seen to be having too much fun incase we look like we are not compassionate about neighbouring LGAs in lockdown, now back in lockdown and so it goes on.  My well-established event planning company 'Byron Bay Experience' which employs over 60 local artists of all genres from glitter fairy fire performers to rock bands, is struggling. Despite the constant flow of enquiries, with the ever shifting restrictions on gatherings, the border closures, and the mass exodus of our local talent, it's proving to be near impossible to go ahead with any event.
So, what can we do to hold on to what's left of old Byron town and is it even possible to reverse the effects of the mass exodus of artists?

One thing I know is that without more careful planning, oversight and involvement from Council we're going to lose all of the things that once made Byron that beautiful bohemian mecca with its coastal and regional charm both visitors and locals want to experience.
The Byron Shire Council has a responsibility to make sure we don't lose sight of our creative roots and to support our community. There will always be a focus on new developments but we need to remember to support the local people who create the magical vibe that make this region so unique and alluring.
A plan that supports our artists and creatives in the region is surely an investment in our community.  Council needs to find ways to create more opportunities for artists by subsidising community events in favour of artists. It's clear to see whenever there is a crisis the artists are called upon to play charity fundraisers. It's a given that as a music community we always say yes to these things because we want to support our community. Now the tables have turned and it's the artists in crisis, where is the community support? There is none because there is no community.
Byron Bay Experience was founded on my own strong compulsion to curate experiences that bring people together through friendships, connections, listening, laughing, sharing food, and telling stories just like the days of Byron that I once knew and loved.  These positive connections foster open mindedness, open communication, unity and cooperation. These are some of the foundations of community.
Perhaps by inducting newcomers into the 'ways' of Byron Bay and showing them through involvement in community experiences the values of Byron Bay, we can start to bring back a sense of community. We need to institute community initiatives that contribute to the greater good. We all need to remember what the Byron region once stood for and reclaim some of that old, hippy Byron charm. That sense of magic is what brought so many of us here and continues to bring people here but ironically cannot be here in the way that things are currently set up.
When parts of our demographic are forced to leave we are left with chunks missing from the fabric of our community.  There is still time to make a change to bring some of that back. We just need to find a way for all members of the community to be appreciated for their contribution and for everyone to be cared for equally.
---
Renee Simone has been performing and curating events in Byron Bay for almost 20 years. She has been Creative Director of Byron's NYE community festival Soul Street for the past 5 years and is a local mother and business owner.