Byron Shire Action Group releases affordable housing plan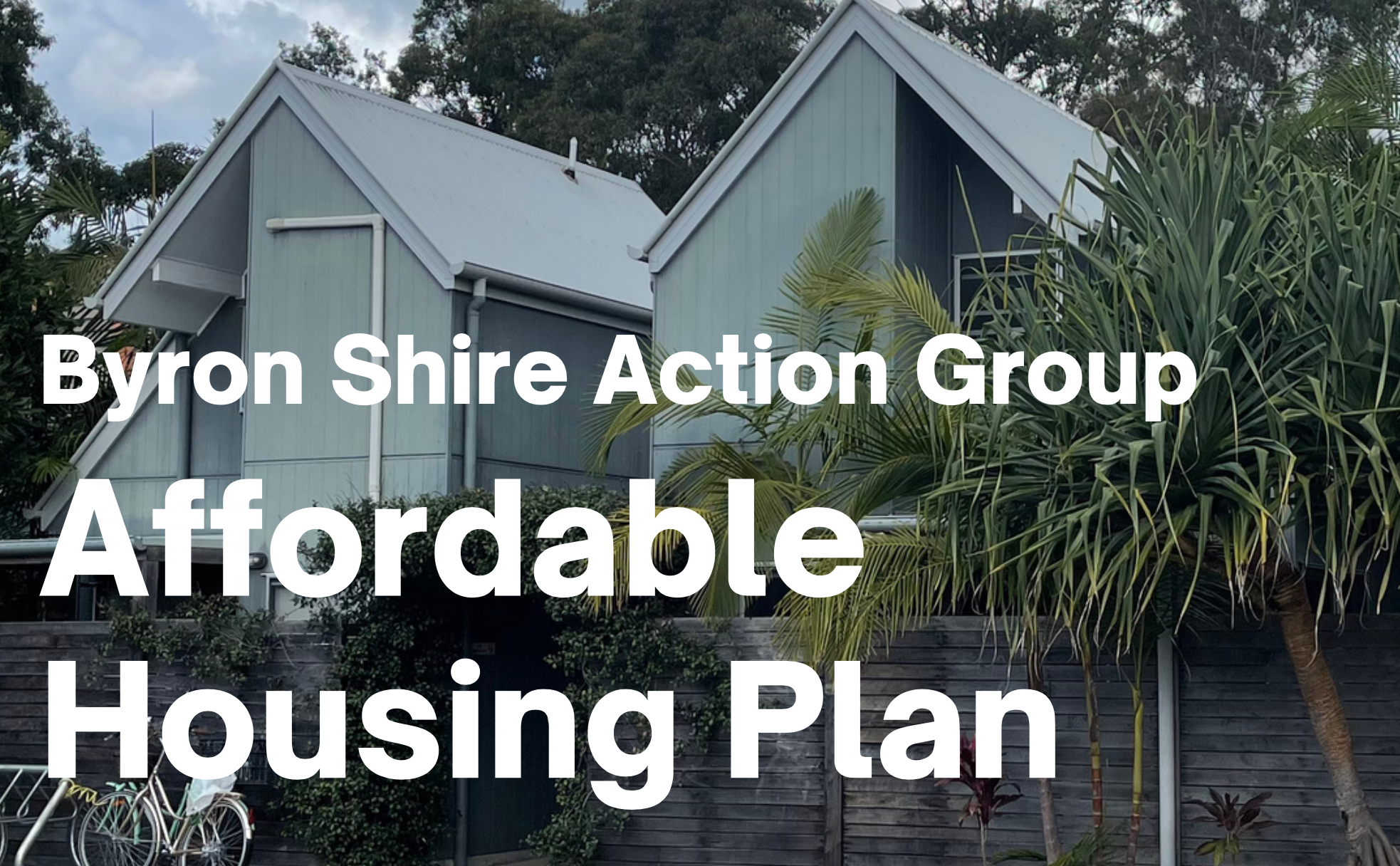 The Byron Shire Action Group (BSAG) has today released a detailed policy agenda designed to address the chronic shortage of affordable housing in the Byron Shire.
November 29, 2021
Read the full Affordable Housing Policy plan (PDF).
The plan includes seven key areas across which the Council could significantly increase the availability of affordably priced rental properties and homes.
Bruce Clarke, who is running for Byron Shire Mayor in the December 4 elections, said that by far the biggest challenge facing the Shire is the lack of affordable, accessible and diverse housing.
"The effects brought about by Airbnb, social media focus and low interest rates are not going away.
"The housing crisis has a very real and terrifying face, families with connections going back a century being forced out of the Shire, mothers and their children living in cars, local workers including teachers, police and nurses not being able to afford to live locally."
The BSAG plan includes:
Conducting a detailed Council governance review, with a view to establishing Council priorities for addressing the housing crisis.
Reviewing rezoning of Council land, including Lot 22 in Mullumbimby which is unlikely to have any significant impact on affordability
Reviewing the Rural Residential Strategy freeing up affordable housing proposals.
Working with land owners, financiers and Non-Government Housing Providers to enable innovative means, including a community land trust, to build and rent affordable accommodation on private land.
Fast tracking a policy of second dwellings on both MOs and Intentional Community land.
Implementing an extended moratorium on unauthorised dwellings, with a view to aid residents
in the process of approval to secure the safety of occupants and communities.
Mr Clarke said the Byron Shire Action Group is committed to addressing the housing crisis in a rational, pragmatic way which will deliver results for those most in need.
"Our approach to affordable housing means advocacy for, and investment in, housing infrastructure which supports the unique character of our Shire, and secures our identity as a diverse and inclusive community into the future," Mr Clarke said.
The BSAG Housing Affordability Plan is the fifth major policy plan released by the group in the lead up to the December 4 Council elections, the other policy proposals can be seen on the BSAG website.
Read the full Affordable Housing Policy plan (PDF).
About Byron Shire Action Group
As a team of highly experienced, like-minded Progressive Independents, Byron Shire Action Group believes in putting the people of Byron Shire ahead of allegiance to any political party. By providing smart leadership and better governance, the team will focus on action plans to solve the many real issues faced by the community. Under the leadership of Mayoral candidate Bruce Clarke, the focus will be to ensure Byron Shire maintains its heritage, character and values while adapting to future demands. Bruce is a lawyer, local government specialist, trained mediator, and environmental and social activist with high-level management and government liaison expertise. He is joined on the team by senior diplomat, journalist, and communications specialist Julie Meldrum; café owner and Brunswick Chamber of Commerce committee member Gary Deller; and small businesswoman Janine Khosid. In the lead up to the Council election on December 4, 2021, specifics about key action plans will continue to be released that will act as a blueprint for a reinvigorated and reunited Byron Shire. www.byronshireactiongroup.org
Media Contact:
Michael Salmon 0417 495 018